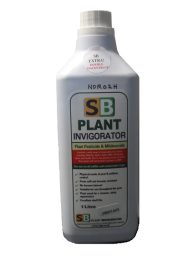 SB PLANT INVIGORATOR 1 LIT
Part Number: NOR02H
£31.36

(exc VAT) per Drum
Click on any of the following links to download the file.
Contains a unique blend of plant safe, physical pest control surfactants


INSECTICIDE / FUNGICIDE
Controls a wide range of important pest species including whitefly, aphid, spider mite, mealybug, scale and psyllid. Controls powdery mildew.
The product works as an insecticide / acaricide / fungicide by a physical mode of action.
DIRECTIONS FOR USE
The following text is taken from the label:
SB PLANT INVIGORATOR
CONTROLS a wide range of important pest species that include whitefly, aphid, spider mite, mealybug, scale and psyllid. Due to the physical mode of action these pests will not become resistant to SB PLANT INVIGORATOR. For use on all edible and ornamental crops. " Physical mode of pest and mildew control. " Pests will not become resistant. " No harvest interval. " Suitable for use throughout the year. " Plant wash for a cleaner, shiny appearance. " Excellent shelf life.
SHAKE BOTTLE WELL BEFORE USE. To avoid excessive foaming put required amount of water into spray tank and add SBPI, then agitate well. Only apply diluted. Do not exceed the appropriate application rates. For maximum effect spray the upper and lower leaf surfaces thoroughly on a weekly basis. Reseal container after use. Store out of direct sunlight above 10oC and below 25oC. For best results spray weekly. DILUTION RATE: Professional formulation: 100ml concentrate to 100 litres water. Garden / Retail: 10 ml concentrate to 1 litre water. (The concentrations and rates of use differ see pack size information on page 4). NOTE: Ensure spraying equipment is washed out before use. Some varieties may be susceptible to scorch, especially in hot conditions (advisable to spray small trial area first). We cannot accept liability that directly or indirectly results from using, transporting and/or stocking this product.