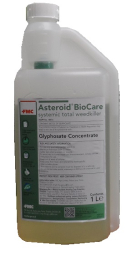 ASTEROID BIOCARE 1 LITRE
Part Number: OGL06J
£27.39

(exc VAT) per Drum
Click on any of the following links to download the file.
Asteroid is an extremely effective herbicide when used as directed against most annual and perennial grasses and broad leaved weeds. Asteroid is an advanced glyphosate formulation based on Envision Technology.


INSTRUCTIONS FOR USE WHEN TO USE: For best effects apply to weeds that have adequate leaf area to absorb the spray when they are actively growing. Rain within 6 hours of spraying can reduce effectiveness and repeat treatment may be necessary. Always spray in calm conditions. Established perennial weeds should be treated at the start of flowering for best results. Spray Nettles and Ground-elder when new leaves have unfolded fully in late spring. Weeds may show first effects from a few days up to 4 weeks after treatment, depending on the weather and the type of weed. Once the weeds have died, they can be dug into the soil or removed and the area treated can be immediately re-planted or sown with seed. Persistent weeds may require repeat treatment, if new growth appears. Apply this product carefully. Ensure spraying takes place only when weeds are actively growing (normally March to October) and is confined only to visible weeds including those in the 30cm swath covering the kerb edge and road gulley – do not overspray drains
HOW AND WHERE TO USE: Use a sprayer to lightly wet the leaves, but avoid run-off of the liquid. Take extreme care to avoid spray drift as this can severely damage or destroy neighbouring plants. Do not use on lawns. 1. For annual weeds e.g. Speedwell, Chickweed and Annual Meadow-grass mix 10 mls of Asteroid BioCare into 1 litre of water and apply over 30 m2. 2. For perennial grasses (including Common Couch) and perennial broad-leaved weeds e.g. Bindweed, Dandelions, Docks, Ground-elder and Thistles mix 15 mls of Asteroid BioCare into 1 litre of water and apply over 30 m2. 3. For woody weeds e.g. Brambles, mix 20 mls of Asteroid BioCare into 1 litre of water and apply over 30 m2.
Measuring: Loosen the chamber cap slightly and gently squeeze the bottle to fill the measuring chamber to the required level. Remove the chamber cap and pour the measured quantity into the sprayer. Replace the chamber cap firmly after use.
After use: After application, thoroughly rinse the sprayer three times, pouring the rinsing water over bare ground. Do not empty rinsing water into drains or soakaways. Do not walk into treated areas until the spray has dried. Children and pets are to be excluded from treated areas until dry.