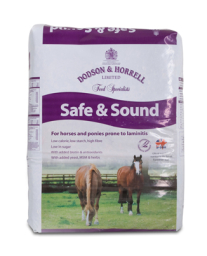 Dodson & Horrell Safe & Sound
Part Number: ADO04J
£13.95

(VAT Exempt) per Bag
| | |
| --- | --- |
| Size | 18 Kg |
| Note | See Technical Data Tab for More Information |
Click on any of the following links to download the file.
SPECIAL ORDER ONLY PRODUCT - Please call our head office pre ordering online.
For horses and ponies prone to laminitis
Low calorie, low starch, high fibre
Low in sugar
With added biotin & antioxidants
With added yeast, MSM & herbs
A balanced, high fibre horse feed recommended for laminitics.
Safe & Sound is a complementary feedingstuff specifically for adult horses and ponies prone to laminitis.

Formulated after extensive research Safe & Sound was developed to provide optimal nutrition for horses and ponies at risk from laminitis. A high fibre, low starch (less than 10%), low fructan diet, Safe & Sound provides the correct amount of calories for light work or for horses and ponies at rest.
Safe & Sound is the perfect balanced diet as it provides long fibre to supply bulk and chewing; 'nutri-nuggets' which are packed with vits, mins and antioxidants. It provides therapeutic levels of biotin, as well as MSM to reduce inflammation and is 50% lower in calories compared to similar products available. In addition Safe & Sound is ideal for slowing down greedy feeders.
A low calorie (50% less than comparable products), fully supplemented, long fibre, low starch, low sugar, fibre feed for laminitics. Ideal for ponies that are stabled as provides long fibre for chewing. Formulation based on our own and the latest international studies on laminitis.
Safe & Sound contains a combination of key ingredients to help combat some of the issues relating to laminitis:-
QLC anti-oxidants to help promote long term health and neutralise free radical activity.
MSM for its soothing properties.
Biotin to maintain hoof integrity.
Omega 3 & 6 fatty acids and linseed to promote coat condition.
Stand Free herbs blended to help support healthy hooves.
Yea-Sacc to aid digestion and promote beneficial bacteria in the hind gut.
Enriched with vitamins and bioplex minerals.
Nutrient Analysis (Analytical Constituents): Est. Digestible Energy 8.5 MJ/kg, Crude Protein 8.0%, Crude Oils and Fats 3.5%, Crude Fibre 23.0%, Crude Ash 8.9%, Copper 55 mg/kg, Sodium 0.5%, Lysine 3 g/kg, Starch 5.0%, Sugar 5.0%, Biotin 10 mg/kg,

Vitamin A 14,000 iu/kg, Vitamin D 2,000 iu/kg, Vitamin E 200 mg/kg, Vitamin C 160 mg/kg, Mixed tocopherols/E306 60mg/kg, Rosemary extract 110mg/kg