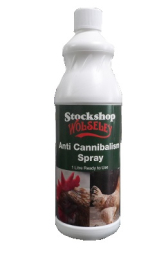 Anti Cannibilism Spray
Part Number: KPO12H
There are no downloads for this product.
Anti cannibalism Spray is a natural solution for changing the antisocial behaviour of poultry and pigs.

INDICATIONS:
The ready to use formulation is designed to be so distasteful to animals that it deters the animals from biting each other.

DIRECTIONS FOR USE:
Spray each animal generously every day for 7 days . If the antisocial behaviour continues repeat the programme.