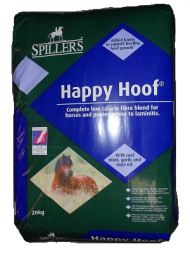 HAPPY HOOF 20 KG
Part Number: AHO05
£15.00

(VAT Exempt) per Bag
| | |
| --- | --- |
| Size | 20KG |
| Note | See Technical Data Tab for More Information |
Click on any of the following links to download the file.
SPECIAL ORDER ONLY PRODUCT - Please call our head office pre ordering online.

Spillers Happy Hoof® is a unique, low calorie fibre blend suitable for Horses and Ponies prone to laminitis
Low Levels of sugar and starch
A palatable blend of straw, alfalfa, grass, garlic and rapeseed oil
With Biotin to support healthy hoof growth
The short chopped form extends eating time

A highly palatable controlled starch mix which provides extra energy for competing horses and ponies.

Spillers Happy Hoof® is proven to produce a low glycaemic response and with the addition of magnesium helps maintain a healthy metabolism.
Includes quality protein to maintain muscle tone and topline.
Contains a balanced blend of omega 3 & 6 oils for a healthy skin and coat.
Includes an elevated level of vitamins and minerals for overall well-being.
Contains high levels of B vitamins for optimal energy release.
Includes two important antioxidants; vitamin C to support respiratory health and vitamin E to support muscle health.


Nutrient Analysis (Analytical Constituents): Est. Digestible Energy 8.8 MJ/kg, Crude Protein 8.0%, Crude Oils and Fats 4.0%, Crude Fibre 25.0%, Crude Ash -%, Copper 20 mg/kg, Sodium 0.36%, Starch 4.0%, Sugar 5.0%, Biotin 5.0 mg/kg, Zinc 100 mg/kg

Vitamin A 10,000 iu/kg, Vitamin D 1,500 iu/kg, Vitamin E 200 mg/kg