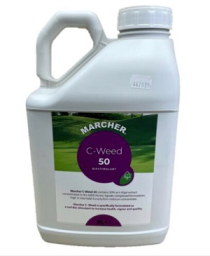 MARCHER C-WEED 50 5LIT
Part Number: YMA05P
There are no downloads for this product.
MARCHER C-WEED 50
The health, vigour and stress reducing benefits of seaweed have long been known about. Marcher C-Weed 50 is a highly concentrated professional product containing 50% seaweed concentrate which has been cold pressed to ensure all the goodness is maintained.
The natural biostimulants in Marcher C-Weed 50 stimulate growth, increase photosynthetic area and help the grass combat disease and stress by ensuring it is in tip top health.
Highly concentrated Marcher C-Weed 50 has low rates of application and is extremely cost effective.
Regular applications every 4-6 weeks from just 10mls per 1,000m2 are recommended through spring, summer and early autumn. Where particularly stressful events such as disease or drought are encountered this can be increased to a one off rate of 300mls/1,000m2.
Marcher C-Weed 50 is a truly different biostimulant algal extract, that contains seaweed concentrate produced from a cool extraction process utilising only Ascophyllum nodosum from the Atlantic coast harvested from the intertidal zone and Micromix's unique AMIX Activated Humic-lignate Complex uptake technology. As it is harvested only during periods of rapid growth, this extraction method ensures that the natural biostimulant anti-stress and growth-enhancing compounds remain intact and are not denatured by heat. The Ascophyllum nodosum is hand harvested taking no more than 60% of any plant to ensure it is a renewable resource.
Marcher C-Weed 50 is typically rich in cytokinins and contains natural auxins, amino acids, and gibberellins along with alginic acid, mannitol, fucoidan and laminarin, C-Weed 50 can be formulated with additional nutrients like Nitrogen and Manganese where local fertiliser regulations dictate.
Marcher C-Weed 50 can be used on all crops. Field trials have shown that C-Weed 50 is up to 250% more biologically active in promoting disease and pest resistance and producing yield and quality increases in a wide range of crops, when compared with the same dose rate of conventionally produced competitor products.
FEATURES:
Earlier & faster crop establishment
Increased early rooting - Reduces drought susceptibility
Increase in photosynthetic area
Increased leaf and shoot growth
Increase in plant carbohydrate (and sugar) production
Improved pest and disease resistance
Improved storability of treated crops
Improved shelf-life of fruits and flowers after a C-Weed 50 programme
AMIX Activated Humic-lignate Complex uptake technology
Organic Bio-stimulant
PRODUCT SPECS:
Appearance:
Dark brown liquid
Typical Analysis:
50% w/v Ascophyllum nodosum extract
APPLICATION RATES:
Marcher C-Weed 50 can be used on all crops and has no statutory Harvest Interval or maximum dosage limit.
Use 0.4 to 0.5 L/ha from seedling to young plant stage.
Use 0.75 to 1.5 L/ha from the end of vegetative growth post flowering.