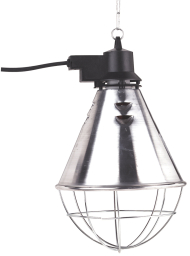 Infra Red Heat Lamp Small
Part Number: IIR01
There are no downloads for this product.
Conforms to latest IPX4 Standards and is EC Approved
Supplied with fixing hooks, 2m of adjustable chain, 5m of electrical cable and moulded plug
NOTE: Must always be fixed with 1m clearance from ground
WARNING: Only use bulbs or filters, do not use heating elements or dull emitters. The vertical distance between the heater and the floor must exceed 1 metre. This can be adjusted with the snaphook and chain.