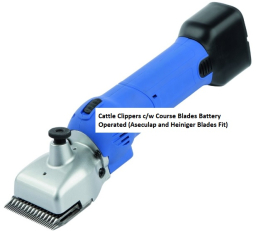 CATTLE CLIPPERS CCB30C
Part Number: ICL55C
There are no downloads for this product.
The new battery-powered clipper designed for horses or cattle boasts exceptional value for money!
The supplied package includes two 14.4 Volt Lithium ion block batteries, which allow uninterrupted
shearing thanks to their optimisedoperating and charging times.
The ergonomic characteristics of the FarmClipper Akku2 are also plain to see: the special surface properties of the housing shells and the balanced centre of gravity prevent the user from tiringtoo quickly. The size of the plastic shells also means that even small hands can be sure of a firm grip on the clipper.
The FarmClipper Akku2 is a clipper with fantastic all-round properties boasting excellent handling.
Available in horse and cattle versions

Includes two 14.4 volt lithium ion block batteries

Optimised work and charging times (approx. 1.5 h) for uninterrupted shearing

Non-slip housing shell for low-fatigue work

Balanced centre of gravity ensures effortless shearing
Specifications:
Motor: 45 watt

Weight: 1kg

Blade speed: 2300rpm

14.4V

Battery: 2 x Lithium-ion 2000mAh

Recharging time: 90 minutes

Clipping time: 90 minutes