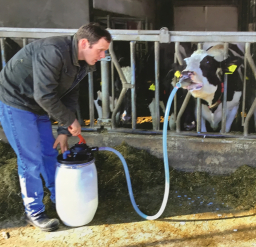 COW DRENCHER 25LT 270CM
Part Number: IDR04A
| | |
| --- | --- |
| Size | 25LT (270CM) |
| Code | COW01A |
There are no downloads for this product.
A 25 litre drenching barrel for the drenching of cows!
Thanks to the diaphragm pump you can now easily insert large amounts of moisture into the rumen.
Ideal for cows with e.coliform mastitis, milk fever (Calving fever), acetonaemy (ketosis), downer cows or after surgery.
The cow drencher is equipped with two handles making it wasy to move when it's full.
Indispensable when administering Cow Drench products.

Click HERE for Cow Drencher video link.


Assembly Instructions:
1. Connect the thin grey tube to the pump with the long part facing down
2. Attach the pump to the lid so that the grey tube protudes the large hole.
3. Insert the Allen screw through the smallest metal ring and the screw hole of the pump
4. Mount the larger ring and the 8mm nut to the bottom of the lid and tighten the Allen screw
5. Repeat numbers 3 and 4 until all Allen screws have been mounted.