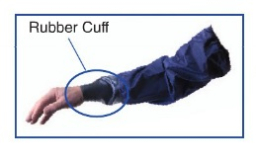 SLEEVES DRYTEX MILKING C/W RUB
Part Number: JSL01RC
| | |
| --- | --- |
| Size | LARGE |
| Colour | BLUE |
| Code | MS26B |
There are no downloads for this product.
Drytex Milking Sleeves c/w Rubber Cuff Large (Pr)

Additional Information
Stay dry, stay comfortable, stay healthy, wear drytex.

Easy to wear, waterproof and breathable clothing

100% Waterproof

70% Breathable

Rubber cuff for comfortable, secure fit at wrist

Elasticated at other end
For any fabric to be considered fully waterproof it must be able to withstand the pressure of a
column of water 1000mm high without leaking.

This is classed as a hydrostatic head rating of 1000.
drytex hydrostatic head rating > 3000.
Water-vapor permeability indicates breathable performance of textiles and is a measure of the
passage of water vapor through materials.

drytex >3000g/m²/24hours, therefore drytex allows 70% perspiration to evaporate.