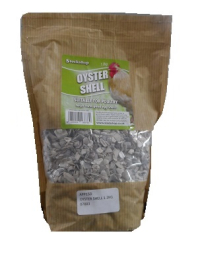 OYSTER SHELL GRIT-HEN 1.2 KG
Part Number: APP15D
£3.60

(VAT Exempt) per Bag
There are no downloads for this product.
1.2kg resealable bag of large Oyster Shell Grit for Poultry. 4-7mm size.
Suitable for all adult laying hens.
Ad lib access to Oyster Shell will help the chickens to form good shells on their eggs
and supplies them with a source of calcium.