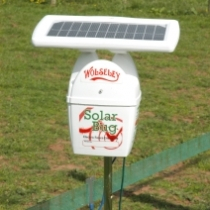 Wolseley SX250 Solar Fencer
Part Number: MFE31B
| | |
| --- | --- |
| Code | 34220 |
| Model | SX250 |
| Note | See Technical Data Tab for More Information |
Click on any of the following links to download the file.
A unique fencer featuring a three way hybrid power system which combines solar power, rechargeable batteries and a standby back up provided to replaceable alkaline "D" batteries
The above modes of operation are integrated and are automatically routed by the internal circuit according to the prevailing conditions (i.e. available solar energy)
The Solar Bug features an auto night saver mode to ensure full solar recovery of the rechargeable batteries during daylight hours. Should there be a prolonged period of insufficient solar power the system will automatically switch to the internal backup battery pack, thus ensuring continued operation of the electric fence. The system automatically reverts to the full solar mode as soon as there is sufficient solar energy available and automatically refreshes the back up battery pack
A pulse indicator LED shows that the system is running
A solar LED indicates the level of solar activity within the system, the brighter the LED becomes the more solar output is delivered to the re-chargeable batteries. A bright solar indicator also means the batteries are fully charged. These units, exclusive to Stockshop (Livestock Equipment) Ltd enable a full season of operation without compromise in performance whilst eliminating frequent battery replacement or recharging
CE Approved
2 year warranty
Stored Energy = 0.35 joules
Max Length = 5km
Open Volts = 6kv
500 Ohms volts = 3kv
Operation Indicator = Yes
Please note the earth stake (34399 -MFP07E ) is not supplied with this fencer and must be purchased separately.