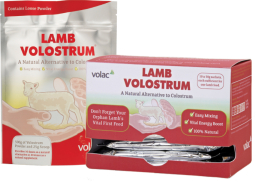 Lamb Volostrum 500gm
Part Number: KVL01B
£19.90

(VAT Exempt) per Box
| | |
| --- | --- |
| Size | 500 Gm |
| Code | MS19A |
| Note | See Technical Data Tab for More Information |
Click on any of the following links to download the file.
A natural alternative to ewe colostrums, to be used whenever maternal colostrum is unavailable or in short supply.
Lamb Volostrum is easy mixing and hygienic, due to being packaged in individual sachets. The Volostrum is a highly digestible source of energy, helps reduce risk of hypothermia and is 100% natural.
An invaluable stand-by in every lambing shed, it is independently tested to assure consistently high quality and quantity.

500g of volostrum provides 10 feeds as a natural alternative or 20 feeds as a natural supplement