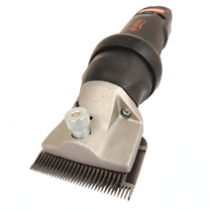 Wolseley Harrier Clippers
Part Number: ICL01C
| | |
| --- | --- |
| Size | 220/240 volt,325 watt clipper. (A6) |
| Code | 50501 |
| Note | See Technical Data Tab for More Information |
Click on any of the following links to download the file.
A powerful clipper with a 325w motor. It is ideal for anybody clipping professionally, or for larger stables/studs.

It is certainly the clipper Wolseley would recommend if you want to clip cattle and horses and shear a few *sheep*.

This clipper is also recommended for industrial use (carpet and brush machines).

Comes with A6 blades.

It features an air cooled motor and a Wolseley designed air baffle which blows the air away from the operator.

It is fitted with a 4m rubber cable with a moulded plug and a thermal overload cut-out switch for safety.

*By removing 2 screws the clipping head can be easily removed and replaced by a sheep shearing head with A5 blades (50623).*

The clippers are supplied in a red double walled moulded case with a set of blades, a clipper brush and a 200ml spray can of Wolseley clipper oil.